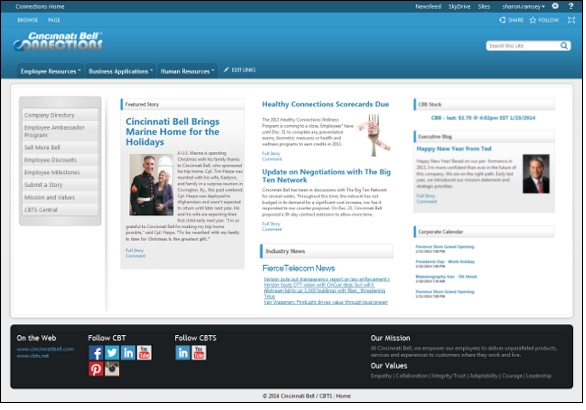 About the Company
Cincinnati Bell, Inc., is a leading provider of Home Phone, High Speed Internet, Wireless and Digital TV services to consumers and businesses in the Greater Cincinnati Area and its neighboring suburbs in Ohio, Kentucky and Indiana.
The Challenge
Cincinnati Bell's Intranet, Connections, was a Frankenstein of obsolete technologies sprawled across numerous servers. Designed in FrontPage 12 years prior, it contained classic ASP, printable forms that couldn't be submitted electronically, SharePoint 2003 content, and hundreds of static pages containing expired articles and events. Business editors were unable to make simple changes without the help of IT. The site's server sprawl, as well as the company's multiple-domain AD environment, guaranteed repeated sign-ons for users.
The Intranet team wanted a fresh look, daily changing content, consolidation of disparate technologies and easier maintenance. They also wanted to create a sense of community by inviting employees to rate articles, comment on posts and suggest story ideas.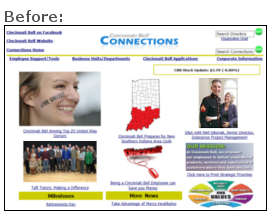 The Solution
I employed SharePoint 2013 Enterprise edition with custom branding for the new Connections Intranet, utilizing the new Community Portal template for its user-engaging social features. In addition to migrating older SharePoint content and recreating simple apps, I recreated several forms and automated their processing.
Proper information architecture and permissions planning moved content editing out of IT and into the hands of business editors where it belongs. And SharePoint's database-driven lists made it a breeze for those editors to create, publish, sort, and retire news stories and other content.
I chose the Enterprise Blog template with comments enabled for a weekly letter from the CEO, and the Enterprise Wiki template to aggregate a host of company policies into one coherent collection. The front page received its much- needed facelift with improved navigation, featured articles, feeds, and the occassional video.
"Shae was a valued partner to our Corporate Communications team as we worked to redesign and relaunch our company intranet. Her deep technical expertise guided us through many important 'what if' scenarios and helped our team deliver a vastly improved user experience." – Angela Ginty, Communications Development Officer
Technologies Used
SharePoint 2013 Enterprise Edition with Community Portal template
Managed Metadata Navigation for navigation continuity throughout the site collection
InfoPath forms with SharePoint Designer workflows
Blogs and discussion boards with comment moderation
Third-party .wsp user solutions, including a purchased branding package and in-house .NET development
External data connections and external lists for a form that auto-fills employee info from a SQL database
Custom lists and views for surfacing recent and featured items while filtering out expired ones
Document library metadata to organize documents previously deeply nested in folders
The Content Query Web part to roll up featured stories from subsites to the front page; calculated columns and custom XSLT for styling
Web Analytics for determining top searches
Picture libraries, asset libraries, and embedded videos
Publishing features, calendars, wikis, RSS feeds; PowerShell, JavaScript, and CSS tweaks