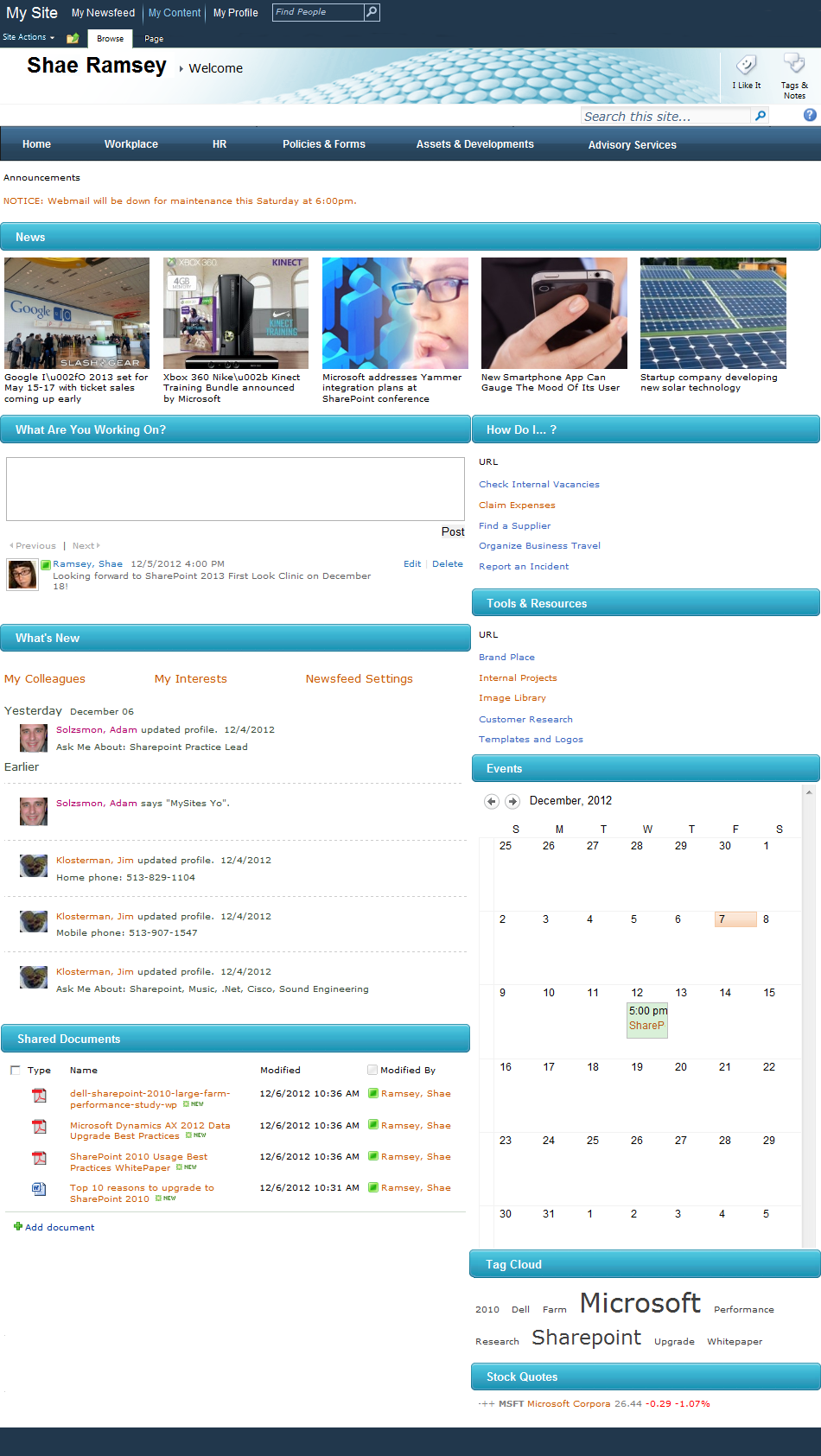 About the Company
PCMS Datafit is an internationally recognized, award-winning supplier of software and IT consulting services to a wide variety of industries, ranging from retail and manufacturing to financial, food, engineering and healthcare.
The Challenge
Like many companies, PCMS Datafit found the out-of-box My Site portal poorly organized and uninteresting. They wanted to customize their internal My Site Portal with their own content and to use it as the social media hub for the company. They sought a redesign that would engage users, encourage conversation and bring dynamic, interesting features that encouraged My Site adoption and kept users coming back for more. They also wanted to push Intranet content to My Sites, so that users who preferred to use their My Site as their home page, rather than the Intranet, would catch important updates.
The Solution
I fully customized the company's My Site template, from look and feel to functionality. I started with a simple master page design incorporating a graphical banner, navigation changes, and colorful section headers. Then I interviewed management, employees and Intranet overseers to find out what kinds of content would best improve and personalize their My Site experience.
Per management request, I excerpted the latest company announcment and displayed it at the top of the page via customized feed. Employees liked the social media look and feel of sites like Facebook, so I added a status field, the user's current status, and a newsfeed of colleague status changes and other activities. The Intranet team wanted users to be able to find top Intranet links, so I used a 'How Do I…' web part to pull in top Intranet links and a news feed for top industry stories. A list of colleagues and a tag cloud brought more social features to the page.
Shae pays close attention to small details and went above and beyond with her quality of work. – Cedric Wells, MCSE
Technologies Used
Master Page design with SharePoint Designer
Content Rollup with Content Query Web Part
JavaScript styling of web part headers
RSS Feeds, Tag Cloud, and 'How Do I…' web parts