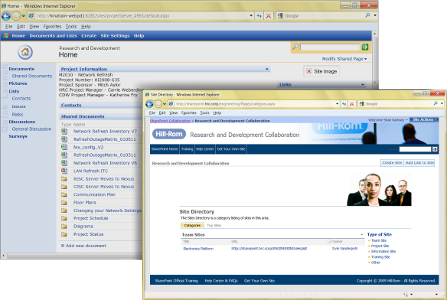 About the Company
Hill-Rom is a leading worldwide manufacturer of medical technologies and services for the health care industry. Hill-Rom's products and services are used by health care providers in hospitals, extended care facilities and home care settings to enhance the safety and quality of patient care.
The Challenge
Hill-Rom's WSS 2.0 collaboration environment was in dire need of attention when the company decided to make SharePoint its official collaboration tool. Hundreds of empty sites existed, no organizational structure was in place, and information was out of date. No governance or development standards were in place and no formal process existed for provisioning access or making changes. Many sites were unowned and some contained malfunctioning end-user code that was no longer maintained.
Hill-Rom wanted to upgrade, organize and enhance its collaboration environment on a shoestring; budget was nonexistent and time was severely limited. They needed an upgrade to WSS 3.0 (the latest free version at the time), a face-lift, and a governance plan.
The Solution
To prepare for the upgrade, I took an extensive inventory of sites, documenting their structure, date of last use, and condition. I held dozens of interviews to identify official owners who could own content and grant access. I located hundreds of unusued sites that could be backed up and removed to ensure that migrated content was fresh and relevant. And I completely recreated several malfunctioning sites, working with users to meet their needs via creative out-of-box customizations wherever I found defective code.
Next, I assembled a SharePoint Governance Committee consisting of both technical stakeholders and business people who could recommend a strategic direction for the environment and drive adoption. With their help, we drafted a SharePoint Governance Plan designed to balance the needs of the business with standards and policies to keep the system manageable. The Governance Plan defined site owner roles, support processes and methods for requesting sites and gaining access.
I then designed and architected a scalable SharePoint farm that could meet the requirements for WSS 3.0 while providing room for SharePoint to grow. I performed a test upgrade of the farm, documenting and fixing numerous customization and template errors.
Finally, I upgraded the sites and held training with the newly named business owners to help acclimate them to their roles and to the new interface.
Hill-Rom wanted an improved look-and-feel that wouldn't take up much project time and that wouldn't require code to build or maintain. I implemented a simple no-code solution, carefully choosing simple page changes that could be made quickly and easily while packing the most punch. Keeping major page elements intact, I added a new color scheme, a logo, a footer, and a simple but dramatic banner image. This freshened up the look and brought the site in line with marketing standards without incurring maintenance costs. I then used Microsoft's Site Directory template to organize site collections on collaboration portal pages and added eye-catching in-page graphics.
Shae is an excellent programmer with web technologies and did great work as SharePoint administrator at Hill-Rom. We were just learning to use the platform, trying to implement governance, and do an upgrade at the same time and Shae worked through it all. – Ken Petty, PMP
Technologies Used
Database-attach upgrade from WSS 2.0 to WSS 3.0 using stsadm tools
Troubleshooting customization and template upgrade errors
Design and architecture of a 3-tier scalable SharePoint farm with matching development and test environments
Implementation of Fantastic 40 Site Directory template
Master page design with SharePoint Designer
Development of governance plan and end-user training